alrighty, per your request, i bring to you the next installment of 'links from chris'. as i've said before, all day long my beloved husband sends me links to articles i would like, songs to listen to, and tweets that he knows i will find hilarious. here is a random smattering of what he has thrown my way over the past couple of months.
1) an article about the nine best doormats. of 2012? ever? i have no idea. it doesn't matter, becuase i love them all. and i find it hilarious that chris sends me an article about stylish doormats. he knows me too well.
2) chris recently made an announcement that he will order us a king-cake this year for mardi-gras. (which we will celebrate by watching dvr on the couch, like every other year).
3) i don't know who danny zucker is, but this tweet sure is fuuuunnnnnnny,
Danny Zuker (@DannyZuker)

I am done telling fibs or as my daughters always text "DTF!"
5) thanks for the reminder, babe. i also find it cute/hilarious that a) he follows the dalai lama on twitter and b) that the dalai lama has a twitter account.
Dalai Lama (@DalaiLama)

Compassion, tolerance, forgiveness and a sense of self-discipline are qualities that help us lead our daily lives with a calm mind.
6) that's what i'm talking about!
Anderson Cooper (@andersoncooper)

1st time a president of US in an inaugural speech has called for equal rights for gay and lesbian Americans, also referenced Stonewall.
7) a picture of the nasher's sculptures collecting snow. preeeety.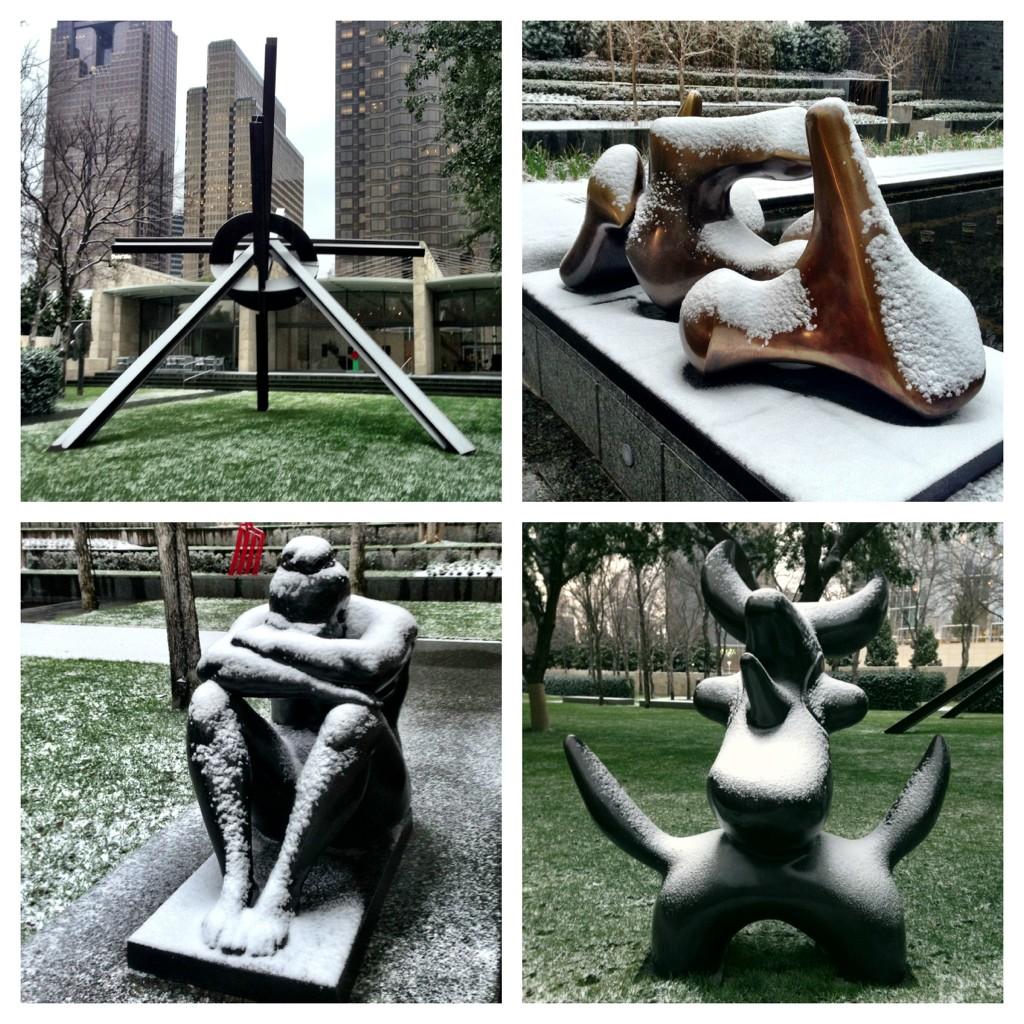 9) i am not exactly sure who this woman is, a writer perhaps? but her tweets are hilarious. all of her other tweets are too innappropriate to post.
I have a difficult time being friends with a woman who doesn't have at least one regrettable tattoo.
Jenny Johnson (@JennyJohnsonHi5)

Well, well, well.... If it isn't my old friend, the hungover mystery leg bruise.
10) it's so good to be an aggie right now. our football coach is as classy as they come, and our quarterback is ridiculous. see?
Aggie Sports (@Aggie_Sports)

Sumlin on being black coach winning SEC COY: "I hope one day, that questions not asked, that people see me as a coach and not a black coach"
12) and last but not least, this beautiful cover by my beloved avett brothers.
keep up the good work, hone
y.